The world is Miki Tourist's stage.
We strive to produce new travel experiences for travelers.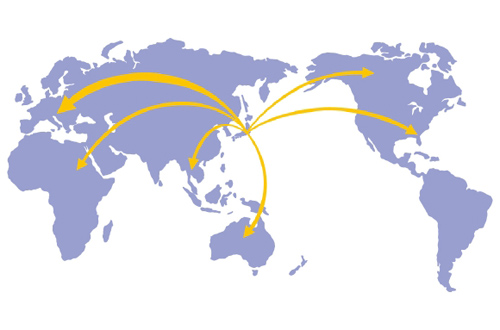 Miki Tourist's network today encompasses Africa, the Middle East, Russia, as well as America, Canada, Oceania, and various countries in Asia, with Europe as its operational core.
With our pioneering spirit, Miki will continue to uncover and introduce new travel destinations around the world, to fulfill travelers' aspirations.
Europe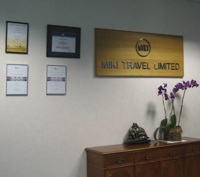 Europe has been the core of Miki's travel operations since its foundation. Our network has expanded steadily throughout the continent to the 20 offices we have today in 17 countries, which provide travel services of the highest quality.
Asia
Responding to the needs of individual travelers, we have developed an online sales system that offers a vast choice of hotels in selected countries throughout Asia.
About destination of India, we offer many kind of travel options, not only for hotel arrangement.
Africa – Middle East
Our expanded line-up now includes favored destinations in Africa, -from Egypt, Morocco and Tunisia in the North to South Africa, Namibia, Botswana, Zimbabwe and Zambia in the South, as well as Turkey and the U.A.E. in the Middle East, where we offer exciting individual trips in collaboration with leading local operators.
Canada
We offer a wide range of attractive travel options throughout Canada, from nature trails in the Canadian Rockies and tours to the Niagara Falls to the famed Maple Route, in cooperation with established local operators.
U.S.A / Hawaii
In cooperation with America's leading Inbound Operator, we provide a comprehensive line-up of travel options throughout the U.S., from hotel stays in all major cities to motor-coach tours around the North-West National Parks, as well as all kinds of travel arrangements for all the Hawaiian islands.
Oceania
In cooperation with our partner in Australia and New Zealand, we provide various and high quality services throughout Australia and New Zealand. We are able to handle educational tours, incentive tours and all fields in both countries.
India
MIKI's partner in India/TWX got prize of MOST VALUABLE TOUR OPERATOR in India for the second consecutive year.
Our handling areas are India, Sri Lanka, Bhutan, Nepar, Bangradesh.
We have representative staff from TWX in
Japan, then will support you about QT and operation in India.
South America
MIKI started to handle South America/Peru, Brazil, Argentina, Bolivia for new destinations from JAN 2014.
We have a full-time representation in Lima/Peru.
We MIKI will surely provide high quality of handling as we do in Europe.
Central America
Our expanded line-up now includes favored destinations in Central America
countries including Mexico and Cuba.
We offer a wide range of attractive travel options in cooperation with established local operators.
---

---